Once again our industry is under attack from those in Washington that hide behind the guise of consumer protectionism. Over the last 6 years Indexed Annuities have had tremendous success.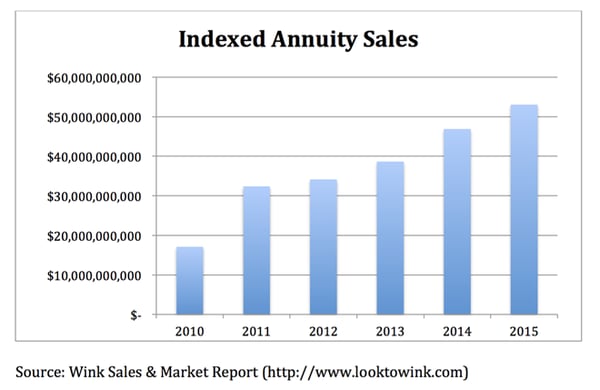 Their success has not gone unnoticed by the regulators. When you couple the sales success with a handful of products with excessive compensation and high surrender charges, and highly publicized suitability lawsuits, it has lead to higher national visibility and scrutiny. Since the issuing insurance companies and the State insurance departments have failed to address some concerns, it has meant the Federal government has stepped in to fill the void. The latest effort comes from the Department of Labor (DOL) in passing a Fiduciary Rule that is slated to go into effect in April of 2017.
This rule brings significant changes for the life and annuity industry and is likely to stand up to the current legal challenges it faces. For those of us, including Independent marketing firms, General Agents and individual producers who have spent years fighting government intervention into our businesses, this may be the one we lose. Whether you like it or not, change is upon us.
Addressing Your Concerns
While the goal of the Fiduciary Rule is to avoid conflict-of-interest between a consumer and a financial advisor when positioning a broad mix of investment products within a qualified plan, fixed indexed annuities were also caught in the final rule. We anticipate sales of indexed annuities will plummet as much as 30% next-year alone. As a result of these changes, annuity agents will continue to face increasing pressure.
Over the next few years increased regulations may continue to squeeze the life out of the annuity business. Producers will face increased costs of doing business, greater legal risks while facing significant decreases in compensation. The time is now for annuity producers to look for other markets and an IMO that can help them transition. So in the midst of the coming DOL ruling, AMZ Financial is prepared to lead once again. Here is the AMZ Financial four-point attack strategy.
Align with a respected RIA

Help agents implement a consistent planning process

Provide prospecting and training

Develop new products to help transition agents
Align With a Respected RIA
First, AMZ Financial believes that in order to continue to sell fixed indexed annuities inside IRAs, advisors will need to align with a financial institution willing to sign the Best Interest Contract (BIC). Registered Investment Advisers (RIAs) act as a fiduciary now, and there are thousands of RIA's and broker dealers that exist today. AMZ Financial reviewed several options and spent a great deal of time focusing on the DOL's impact and its effect on financial advisors. Royal Fund Management, LLC (RFM) is led by management with over 30 years in the financial services industry. They specifically cater to the needs of independent insurance producers. RFM and AMZ Financial both have excellent track records in meeting the needs of the independent financial advisor. We are confident that Royal Fund Management, LLC can fully meet the needs of today's advisors through their robust platform, and forward- looking technology to keep up with the changing ways consumers want to receive financial information.
Assist Agents with Improved Business Practices
Second, in taking into consideration the Best Interest Contract (BIC), we believe that most insurance producers could improve their business and practice management by changing the way they interact and serve their clients. Through our Consistent Advisor coaching program we will coach an agent step-by-step through the proven processes that build trust, respect, and referability to serve the needs of the client. We also offer Selling 180 to completely transform your client interactions from a pure product presentation to more structured, comprehensive nontraditional selling approach. By using Selling 180, we show you that before you even discuss product solutions, you determine if the prospect is a right fit for you and would be willing to move forward implementing your suggestions.
Provide Client Prospecting and Agent Training
Third, AMZ Financial provides the necessary prospecting and training to keep your practice moving in the right direction. To survive in this business you need to continually find new prospects to work with, and we offer some of the most respected and proven prospecting programs in the market today such as Financial Wellness@Work. The Financial Wellness @ Work program cracks the door on worksite marketing and generates a constant stream of employers and employees for you to work with. From a product training and educational perspective, we offer education and training of Indexed Universal Life. At AMZ Financial we have created 12 of the industry's best-selling IUL products over the past 16 years.
Develop New Innovative Products
Last, we look to the future and how consumers will want to learn about alternative retirement savings options than traditional approaches. Life insurance can be one of those options. There are companies that AMZ Financial is working with to release the latest technology to enhance the buying experience. We are collaborating on the launch of a new IUL product that will change the game. This product will allow a producer, in many cases, to take an application on a Wednesday, get an underwriting decision by Thursday, deliver the policy Friday, and receive commissions on the next cycle. Underwriting for this product includes Preferred and Preferred Plus rates, with a death benefit up to $500,000. So from application to commissions in a week, there's not a single indexed life product that issues this fast today. For the majority of annuity producers that are going to look at the DOL's actions as the opportunity to change the nature of their practice, AMZ Financial has all you need.
Download Valuable Materials
To help you fully understand the implications of the DOL Fiduciary Rule, we recommend that you download the attached document. In it you'll find a presentation on the rule, as well as a FAQ for financial advisors. You can access that content by clicking here.
Schedule a Call
We believe that the new rule is extremely important, so please take a moment to schedule a brief 15-minute phone call. During the call we can discuss with you the new IUL product that is slated to be introduced soon that will go from application to commissions in seven days, as well as our DOL Four-Point attack strategy.
When you call, please ask to speak with a representative regarding the DOL Rule.
866-204-7712
---